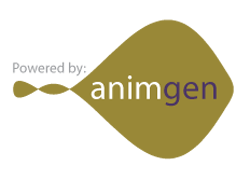 Technology
AnimGen technology has been developed from exciting research at the University of East Anglia into designing and animating virtual human characters - avatars.
The word avatar refers to a figurative three-dimensional computer model or graphic, and is taken from the Sanskrit word avatāra, a concept similar to that of incarnation.
A unique aspect of AnimGen's avatar technology is the development of a ground breaking system for synthesised animation from a written notation for specifying gestures, integrated with a state of the art avatar animation platform that combines precise skeletal animation with accurate facial gestures.
A particular focus of the work is in animation of sign language to aid in communication for deaf people. The technology supports interactive generation of sign language that is animated in realtime, thus supporting applications that cannot be implemented using video resources. The technology is available as an automatically installed web plugin. The technology is integrated with software generating realistic lip-sync, for applications using speech.
Applications:
Avatars have applications in broadcasting, entertainment, and education. AnimGen avatar technology is compatible with industry standards and the use of a gesture scripting notation allows generation of animation without the need for complex motion capture or manual animation techniques. Since animations can be applied to any compatible virtual human character, it is straightforward to provide branded avatars for specific purposes.
The application of the technology to deaf signing is particularly important as a potential tool to meet accessibility requirements for those whose preferred medium of communication is sign language.
Examples:
Please see our Projects page for examples of where AnimGen technologies have been successfully applied to commercial projects, including the BAFTA-nominated Performing Hands resources and Say It Sign It, developed with IBM.
Download AnimGen:
To evaluate Animgen for non-commercial use, please download the JASigning software from http://vh.cmp.uea.ac.uk
Purchase AnimGen:
Animgen software is available to license through SYS Consulting Ltd, a specialist consultancy company established in 2000 to provide tailored access to information and communication technology and expertise from the School of Computing Sciences, University of East Anglia.
To discuss your company benefitting from AnimGen technologies please contact us for an informal, confidential discussion of your organisation's requirements.